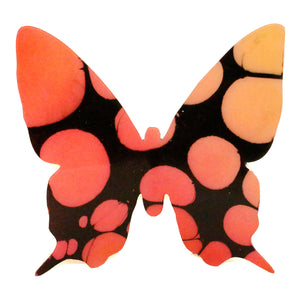 PLEASE SELECT SIZE (PATTERN WILL VARY)
Large size: WxLxH: (9", 5", 7.5") Base WxL: (3", 7") 

Each butterfly is a one off and one of a kind.
COMES WITH: acrylic neck stand, acrylic base, butterfly, instruction (All in box/ hand packed) 
ACRYLIC, RESIN, ITALIAN GLASS PAINT, HAND MADE PIGMENTS, BLENDED MICA POWDER, ACRYLIC CEMENT, ENAMEL, UV PROTECTION CLEAR COAT, VARIOUS PANTONE COLORS USED, LOW OFF GAS. 
Hand painted/ designed by "

Artist Toni Martin" 

Laser cuts form Copyright AI file (original design) pattern. 

Butterflies can be made in 

Acrylic, metal (16G Rolled steel/ hand welded by artist, polyurethane foam 8th inch)

The pieces are then given a wire backing which  is sealed with a heavy body acrylic ( creating a texture). Butterflies are coated with a Resin / Epoxy/ mica pigment/ glass  paint - created on a polyurethane foam sheet - the option for acrylic is possible -  8th in thickness (

Sizes will vary/ no one butterfly is ever the same nor can it be replicated

 

exactly only a rendition of the pattern)
Ultimate rust protection in a tough, attractive finish
Durable "CHEM-CAST ACRYLIC" protective coating for use on indoor/outdoor surfaces DESIGNED TO REFLECT AND PROTECT AGAINST ULTRAVIOLET LIGHT AND KEEP VIBRANT COLORS OVER THE YEARS.